Finished School? Train for your Career or Study for your Job with Leistritz!
Great opportunities. Training for your Job at Leistritz is cool. That's what our trainees say. Get in touch and find out more. On Instagram, for instance.
7 Options for Training and Studying.
You're on the hunt for top training, doors opening and the freedom to become even better at what you love doing? Then this is the space to go for. Right in the heart of German industry. Far away from corporate chore.
Export ist our business. You will get to know the world. Work with great people. Discover new countries. And new cultures.
This makes us Special:
We are four business units under one roof.

is all about airplane engines, flying, aviation, power.

Anything fluid and everything that needs to be pumped.

is all about plastics, pharmaceuticals, foods and recycling.

is all about industrial and precision tools, tooling and machines.
Train for your Career at three Locations:
Nuremberg
Leistritz Home Base
Remscheid
Home Base for Turbine Technology
Pleystein
Home Base for Production Technology.
Scholar Practicals
Not sure about what you want to do? Interested in checking out what it's like in industry?
Join us for a scholar practical Get a first-hand feeling for what its like and see whether there's an option that fits.
Technical or commercial? We do both.
Apply in good time, best is to do so 6-8 months before your schooling closes.
Interested? Submit your application with a resumé and your last school reports by email to careers@leistritz.com
We look forward to hearing from you.
You still have questions?
Check out what you can expect working at Leistritz.
Unsure about how to set up an application?
Find tips and frequently asked questions here. It's easy!
Job Training Options in Nuremberg
Nuremberg is home base to the Leistritz Group. Pump and Extrusion Technology production facilities are also based here, as well as part of Turbine Technology. .
We're very proud of our own Training Workshop. It's where you get to know industrial manufacturing live and for real. Since we are a manufacturing set up, you learn the real thing. If you tend toward commercial jobs, an exciting journey through many expert areas awaits you.
Training Options in Nuremberg
Industrial management (Purchasing, sales, marketing, human resources or financial services)
Cutting machine operator (Planning of production processes, setting up and operating turning, cutting, drilling and grinding machines, CAD)
Industrial mechanic(Setting up, retooling, commissioning and correcting machines and production lines, finishing spare parts)
Mechatronics engineer
(Setting up and operating complex mechatronic systems comprising mechanical, electrical and electronic components)
Integrated studies - industrial mechanic (Combined job training and mechanical engineering study)
Integrated studies industrial and mechanical engineering (Industrial engineering basics, engineering science, business administration, business economics, controlling and business law)
Integrated studies electrotechnical engineering (PDF) (elektrotechnical and mathematical science, practical projects using the latest tools in industry and commerce)
Interested?
Apply now!
Training in Remscheid
The Remscheid plant is home to the Turbine Technology division. It became part of the Leistritz Group in 2005. We are partner to all leading OEMS and module suppliers in the aero engine, turbine and power generation industry. In a nutshell: all airplane Boeing and Airbus engines run with our know-how!
Training in Pleystein
Leistritz Production Technology is based in Pleystein in eastern Bavaria, home of our production facility for high precision tools, tooling machines and tube bending.
In a nutshell: the exhust of many luxury SUVs rely on our tube bending, hundreds of metal processing companies rely on our precision tools to manufacture spindles, drills, cutting tools and so on. Also, many a drone flies using minute steering spindles finished on our machines. And in some cases, our technology is unique. Globally.
As in Nuremberg, Pleystein boasts a proud Training Workshop. It promises an exciting place to learn.
Moreover: training for a job assures you of an equally exciting future.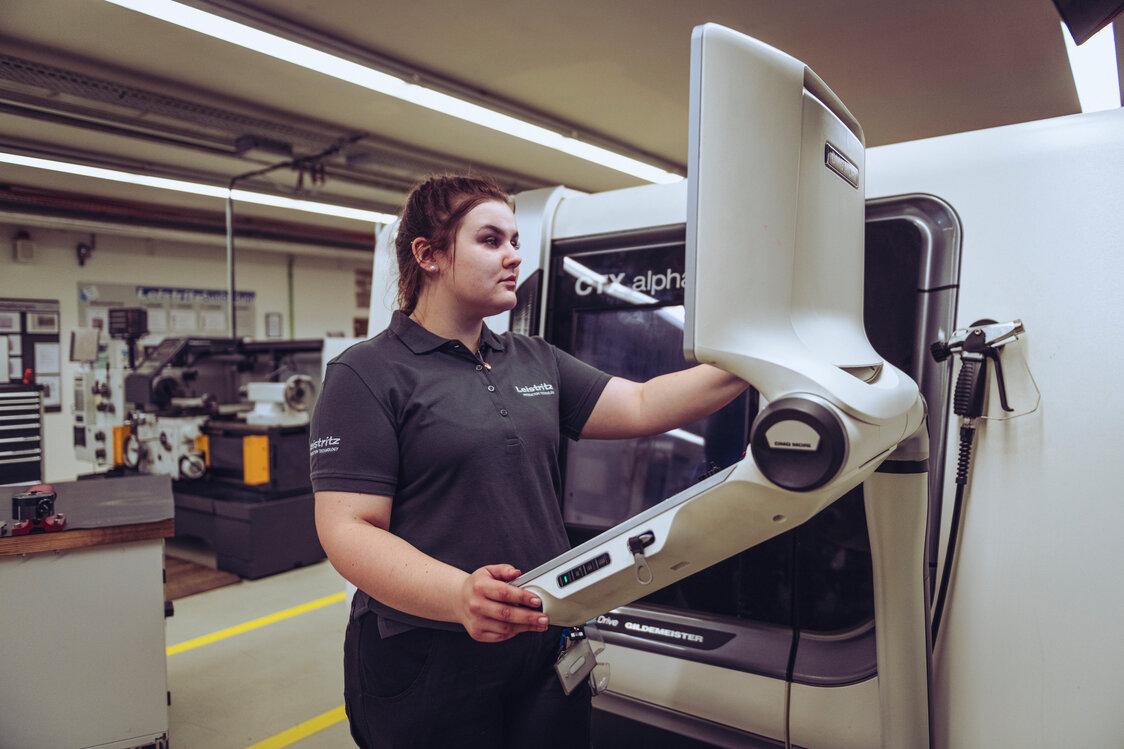 Trainee Opportunities in Pleystein
Cutting machine operator: operating turning, milling, cutting, drilling and grinding machines
Industrial mechanic: operating industrial machines and plants
Industrial clerk: oall-rounder in purchasing, sales, marketing, human resources, finance and controlling
Interested?
Aply here!
Contact
Carina Müller
Human Ressources Leistritz Produktionstechnik GmbH
Tel.: +49 (0) 9654/89-825 Fax: +49 (0) 9654/89-812 cmueller@leistritz.com
Tips for your Application
Found the job training offer that fits? Top. Now move on to apply. We'll help you get it right.
When should I apply?
Early! 6 - 8 months before training starts
What should my application folder look like?
It includes three items: cover letter, résumé (curriculum vitae) and testimonials.
Your cover letter schreiben is your personal introduction. Make sure it is neat and tidy minus evident mistakes. Tell us, why you are interested in the job training offer. Tell us about your hobbies or practicals. Also explain why you chose Leistritz.
Your résumé is a well-structured and clear. Try a tabular format with key points on the left and detail in the right column. Begin with personal data such your full name, date and place of birth plus contact details. Then list your schooling and extracurricular activities.
Important: Include a copy of your testimonials and school reports covering the last two years plus testimonials on your practicals.
Put it all together, collect in a PDF folder - done.
What's the difference between an online application and an application folder? 
The contents should be identical. Only difference is the format: your documents must be in PDF format, so you can upload them online. Please keep them lighter than 5 MB.
How does the selection process work?
In three steps
1. Preselection
The overall impression counts! Correct cover letter, good school results in the subjects that are important for the trainee job. So technical jobs will emphasize sciences while commercial jobs require more mathematics and languages. If it fits, we shall invite you to a personal test.
2. Personal Test
This checks that you fit the job. After the test, we shall invite you to a personal interview.
3. Personal Interview
Yes - we're keen to have you on board. This is your opportunity to get to know us better and see, whether you feel comfortable.